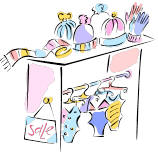 Minor Corrections, Deletions and Updates to Sale Listings
Whether you are the sale or event owner, or a visitor or customer, if you want to make corrections to any listing, here's the form! The form is designed to make it fast and easy for you to help me update the information, so I can promptly correct it! If you want to offer comments or feedback about a sale, please use the Feedback form.
If you want to recommend a sale to add; use the Suggest a sale form

Please don't type in ALL CAPITALS! It's really hard to read and must be manually retyped!