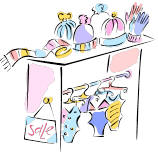 Looking for local Children's Consignment Sales in Southeastern South Carolina? Scroll down this page and you will see the all of those in Southeastern South Carolina, sorted by county. ALWAYS call before you go to confirm the info, they don't always report changes to me!
Help us keep this list of Children's Consignment Sales current and accurate and; if you know of one we missed and want to add it or correct the information, please let me know! Most are planning to hold their sales, with social distancing.
They are great way to find excellent lightly used (often looks like new), children's clothing, toys, baby clothes, maternity clothes, infant equipment, toys for children and infants, baby and children's furniture (cribs, rockers, etc.), strollers, books, cds, dvd's, video's, educational toys, baby monitors, and much, much more. The prices are usually fantastic. Clothes often go for as little as $1 per article, most commonly around $2 to $5 per item. Often, the consignment sales have a half-price sale during their last day, which is typically a Saturday. Be sure to see our tips section! Be sure to see our lists of local Pick Your Own farms to take your kids to! See www.PickYourOwn.org. There are affiliate links on this page. Read our disclosure policy to learn more.
Updates for May 2022
May: Children's Consignment Sales are usually held twice a year, late winter (February and March) and Fall (August and September). Keep in mind that due to Coronavirus, some organizations may postpone or cancel their Spring sales; always check their website, or call or email them for confirmation.
Children's Consignment Sales by County
Click on Resources above, if you need a county map
Allendale County
Bamberg County
Barnwell County
Beaufort County
Berkeley County
Charleston County
Charleston Repeats - Always see their website, facebook page or by email for updated dates, hours and conditions
Omar Convention Center, 176 Patriots Point Road, Mount Pleasant, SC. Email: charlestonrepeats@hotmail.com. Directions: see their website. Payment: cash, American Express, Mastercard, Discover and Visa; NO CHECKS.. Bring a Laundry Basket, with a belt or rope tied through the loops, to drag around behind you--this serves as your shopping cart. Stop by the sale on the 50% off day on Saturday - all items EXCEPT those marked "ND" will be sold for 50% off. Items with "ND" (No Discount) on the tag Typically in may ill be purchased on 50% off day, but they will not be discounted. Wear comfortable shoes - there is lots to see! If you bring your children, please keep them with you at all times and do not allow them to play with the consigned items. Children, strollers, and wagons you would use for a child are allowed during all PUBLIC shopping days and during the 50% off Presale Bash on Friday evening. Strollers and wagons and children under the age of 12 who are not infants worn in an infant carrier are not allowed during the Presale Bash. ALL SALES ARE FINAL - NO RETURNS ACCEPTED! Therefore, if you are concerned about an item or want to see if all the items are in a bag/pages in a book/if that baby monitor works, ask a volunteer in a Charleston Repeats' apron to assist you in opening the item/bag, checking the item, then resealing it. Please do not open bags on your own.

Spring dates:
Thursday, typically in March from 8:00 am to 10:00 am: Special Shopping for Facebook and Twitter Friends- MUST KNOW PASSWORD TO ENTER! Passwords will be announced on Facebook and Twitter during the sale week
10:00 am to 7:00 pm: Public Shopping--no special pass needed! Just walk in! ADULTS AND CHILDREN OF ALL AGES ARE WELCOMED DURING ALL SALE DATES AND TIMES EXCEPT FOR THE PRESALE BASH ON WEDNESDAY STROLLERS ARE WELCOME AS WELL WE WILL TAG THEM UPON ENTRANCE INTO THE HALL, SO THAT WE KNOW IT BELONGS TO YOU! :)
Friday, (typically in March) from 10 am to 3pm, Public Shopping--no special pass needed! Just walk in!
3:00 pm to 5:00 pm: Sale Closed
7:00 pm to 9:00 pm: Shopping for all First Time Moms/Grandmothers, Facebook and Twitter Friends (MUST KNOW PASSWORD TO ENTER)
Saturday, (typically in March) from 8 am to 3pm 50% off select items day, **50% OFF SALE APPLIES ONLY TO ITEMS NOT MARKED "ND" ON THE TAG** 8:00 am to 3:00 pm: 50% off Shopping for Public

Fall dates:
See their website.


Colleton County
Dorchester County
Hampton County
Jasper County