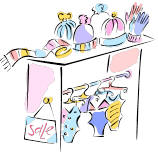 Looking for local Children's Consignment Sales in San Bernardino County, California? Scroll down this page and you will see the all of those in San Bernardino County, California, sorted by county. ALWAYS call before you go to confirm the info, they don't always report changes to me!
Help us keep this list of Children's Consignment Sales current and accurate and; if you know of one we missed and want to add it or correct the information, please let me know! Most are planning to hold their sales, with social distancing.
They are great way to find excellent lightly used (often looks like new), children's clothing, toys, baby clothes, maternity clothes, infant equipment, toys for children and infants, baby and children's furniture (cribs, rockers, etc.), strollers, books, cds, dvd's, video's, educational toys, baby monitors, and much, much more. The prices are usually fantastic. Clothes often go for as little as $1 per article, most commonly around $2 to $5 per item. Often, the consignment sales have a half-price sale during their last day, which is typically a Saturday. Be sure to see our tips section! Be sure to see our lists of local Pick Your Own farms to take your kids to! See www.PickYourOwn.org. There are affiliate links on this page. Read our disclosure policy to learn more.
Updates for March 2023
March: Children's Consignment Sales are usually held twice a year, late winter (February and March) and Fall (August and September). Keep in mind that due to Coronavirus, some organizations may postpone or cancel their Spring sales; always check their website, or call or email them for confirmation.
Children's Consignment Sales by County
Click on Resources above, if you need a county map
San Bernardino County
Moo La La Boutique Children's Consignment Event - Spring and Fall sales (see their website for most current dates)
200 Redlands Mall, Redlands, CA. Email: Spring dates:
Thursday, typically in March from 10 am to 6pm. Must purchase a Pre Sale ticket to shop.
10am-$8
12pm- $7
2pm- $6
4:00 pm- $4
Friday, (typically in March) from 10 am to 6pm
Saturday, (typically in March) from 10 am to 5pm
Sunday, (typically in March) from 10 am to 3pm. Discount Day! Most items 50% off!!


Fall dates:


See their website.

Everyone is invited to shop at Moo La La Boutique, admission is free Friday through Sunday! With over 90,000 items at an average of 70% off of retail, you will definitely find some great deals. Tell your friends, neighbors, co-workers, relatives and anyone else that shops for kids.The earlier you shop, the better the deals! Remember that VOLUNTEERS and CONSIGNORS shop first! Don't forget that Sunday is DISCOUNT DAY- most of the remaining items are an additional 50% off the super low prices.
Admission is FREE Friday through Sunday - come shop, have fun and save moolah!
For your convenience Moo La La Boutique accepts cash and credit card (Visa, American Express, Discover and Mastercard)
ALL SALES ARE FINAL. No exchanges or returns.
Bring a tape measure and your child's measurements to ensure that you are buying the correct size. Remember to measure feet or make an out-line of your child's foot.
Parking is free.
We only allow small purses into the sale. We ask kindly that you leave large purses, diaper bags in the car or at home. ALL BAGS and STROLLERS will be inspected upon exiting to protect our consignors items.
Umbrella strollers, baby carriers or slings are welcome.
Bring a friend… shopping is always more enjoyable when shared with a Partner-in-Crime!
Come again on Discount Day! There are thousands of items at 50% off.
We love kids! However, we RECOMMEND, especially during drop off and Public Sale Opening and Pre Sales, that you consider arranging care for your children. These are extremely busy times during the sale and we want what is safest for your little ones.
In the event that you must bring your children with you, please be mindful of them. We ask that your children remain with you at all times and that they do not open or play with or on any of the toys or clothing racks.
This Little Piggy Children's Consignment Event - Spring and Fall sales (see their website for most current dates)
1947 Convention Center Way, Ontario, CA, 91701. Phone: (909) 702-2002. Email: Info@thislittlepiggyconsignment.com.
Spring dates:
Thursday 2/23/17; 11-12pm Private Presale; 12-2pm New and Expecting Mommy Sale (register online); 2-5pm Pre-purchase Passes Online; 5-8pm $5 at the door
Friday 2/24/17; 10-5pm Public Sale - free entry
Saturday 2/25/17; 10-1pm Public Sale - free entry; 3-6pm Discount Day Pre-Sale $5 at the door
Sunday 2/26/17; 9-2pm Discount Day - free entry; 50% off most items.
With prices far below retail, shoppers can buy quality items worry free without breaking their piggy bank! Entrance is free at our public sales, but if you would like to shop earlier click here to purchase Pre-Sale Passes to shop our Private Pre-sale. Shop thousands of name-brand items at a huge discount.