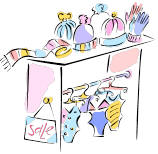 Looking for local Children's Consignment Sales in Central Virginia (Charlottesville, Staunton, Albemarle area)? Scroll down this page and you will see the aall of thoses in Central Virginia (Charlottesville, Staunton, Albemarle area), sorted by county. ALWAYS call before you go to confirm the info, they don't always report changes to me!
Help us keep this list of Children's Consignment Sales current and accurate and; if you know of one we missed and want to add it or correct the information, please let me know!
They are great way to find excellent lightly used (often looks like new), children's clothing, toys, baby clothes, maternity clothes, infant equipment, toys for children and infants, baby and children's furniture (cribs, rockers, etc.), strollers, books, cds, dvd's, video's, educational toys, baby monitors, and much, much more. The prices are usually fantastic. Clothes often go for as little as $1 per article, most commonly around $2 to $5 per item. Often, the consignment sales have a half-price sale during their last day, which is typically a Saturday. Be sure to see our tips section! And don't miss the many free Easter egg hunts in April 2018, click here to find one near you.
Updates for January 2018
January: Children's Consignment Sales are usually held twice a year, late winter (February and March) and Fall (August and September).
Children's Consignment Sales by County
Click on Resources above, if you need a county map
Albemarle County
Amherst County
Appomattox County
Buckingham County
Charlottesville (City of)
Here WEE Grow Again - Always see their website, facebook page or by email for updated dates, hours and conditions
Aldersgate UMC, 1500 East Rio Road, Charlottesville, VA. Email: hereweegrowagain@comcast.net. Directions: see their website. Payment: Cash, Checks, Visa and Mastercard. Please make checks out to AUMC. A valid driver's license must accompany all checks.At HWGA we offer you a chance to make money by recycling those gently worn clothes, toys they hardly played with, and equipment that was barely used! You also have the chance to save A LOT of money by purchasing quality items with us instead of at the retail stores. It is also an opportunity for our community to give to those in need. The clothing that does not sell and is designated by our consignors will be donated to the Central Virginia Baptist Associations' Clothing Center, an outreach program for families in need. We hold our sales bi-annually, in the Spring and in the Fall. Click here for a link to our Facebook page.

Spring dates:
March 8th and 11th-18th
Wednesday, March 8th from 10 am to 6pm
Your $5.00 entry fee goes to the charity of your choice! $5.00 charge for each adult entry.
Saturday, March 11th – OPENING DAY – 9 am to 3pm (We will have just restocked all day on Thursday and Friday!)
Sunday – CLOSED
Monday, March 13th; 10 am to 6pm (Full Price)
Tuesday, March 14th; 10 am to 6pm (20% off most items)
Wednesday, March 15th; 10 am to 6pm (30% off most items)
Thursday, March 16th; 10 am to 6pm (40% off most items)
Friday, March 17th; 10 am to 6pm (50% off most items)
Saturday, March 18th; 9 am to 3pm (75% off most items)

Fall dates:
See their website.


Fluvanna County
Greene County
Louisa County
Lynchburg (City of)
Madison County
Nelson County
Orange County