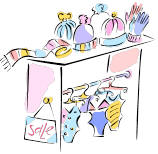 Looking for local Children's Consignment Sales in Western Massachusetts? Scroll down this page and you will see the aall of thoses in Western Massachusetts, sorted by county. ALWAYS call before you go to confirm the info, they don't always report changes to me!
Help us keep this list of Children's Consignment Sales current and accurate and; if you know of one we missed and want to add it or correct the information, please let me know!
They are great way to find excellent lightly used (often looks like new), children's clothing, toys, baby clothes, maternity clothes, infant equipment, toys for children and infants, baby and children's furniture (cribs, rockers, etc.), strollers, books, cds, dvd's, video's, educational toys, baby monitors, and much, much more. The prices are usually fantastic. Clothes often go for as little as $1 per article, most commonly around $2 to $5 per item. Often, the consignment sales have a half-price sale during their last day, which is typically a Saturday. Be sure to see our tips section! And don't miss the many free Easter egg hunts in April 2018, click here to find one near you.
Updates for November 2018
November: Children's Consignment Sales are usually held twice a year, late winter (February and March) and Fall (August and September).
Children's Consignment Sales by County
Click on Resources above, if you need a county map
Berkshire County
Franklin County
Hampden County
Hampshire County
All-4-Kids Easthampton - Always see their website, facebook page or by email for updated dates, hours and conditions
Easthampton High School, 70 Williston Ave., Easthampton, MA. Email: all4kids413@gmail.com. Directions: see their website. Payment: see their website. Examples of items that are typical found at the sale include Children's Seasonal Clothing newborn to size 20, including juniors sizes 0, 1, 2, etc., Seasonal children's shoes in new or like new condition, Seasonal Maternity & Nursing Clothing, Baby items, Accessories - belts, hats, ties, purses, hair accessories, tights, new socks & new underwear in original package, etc., Halloween Costumes (accepted at Fall/Winter sale only), Swimwear in good condition, Toys, games, and puzzles clean, working, and complete that have not been recalled. No war games or weapons please. Battery operated toys WITH working batteries (, Fully functioning electronic toys. Books - children's or parenting books. All must be in good condition with no writing or pages missing. If packaged, please list all books. DVDs, computer games (E rated and child-appropriate). Crib bedding (no bumpers), Twin, Full, & Queen bedding. Infant/Child-themed room decor.Children's furniture, changing tables, bassinets, toddler or twin beds, rocking chairs, children's tables & desks, etc. Nursing equipment - Boppy pillows, stools, etc. (not breast pumps unless new in the box with seal intact), Outdoor toys - play structures, bikes, wagons, sports equipment. Sports Equipment - skates, cleats, bike helmets, etc., any child-sized sporting goods.

Spring dates:
DATE for the Spring/Summer Consignment Sale COMING SOON See their website.

Fall dates:
See website.