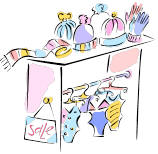 Looking for local Children's Consignment Sales in Northern Indiana? Scroll down this page and you will see the aall of thoses in Northern Indiana, sorted by county. ALWAYS call before you go to confirm the info, they don't always report changes to me!
Help us keep this list of Children's Consignment Sales current and accurate and; if you know of one we missed and want to add it or correct the information, please let me know!
They are great way to find excellent lightly used (often looks like new), children's clothing, toys, baby clothes, maternity clothes, infant equipment, toys for children and infants, baby and children's furniture (cribs, rockers, etc.), strollers, books, cds, dvd's, video's, educational toys, baby monitors, and much, much more. The prices are usually fantastic. Clothes often go for as little as $1 per article, most commonly around $2 to $5 per item. Often, the consignment sales have a half-price sale during their last day, which is typically a Saturday. Be sure to see our tips section! And don't miss the many free Easter egg hunts in April 2018, click here to find one near you.
Updates for February 2018
February: Children's Consignment Sales are usually held twice a year, late winter (February and March) and Fall (August and September).
Children's Consignment Sales by County
Click on Resources above, if you need a county map
Adams County
Allen County
Benton County
Carroll County
Cass County
De Kalb County
Elkhart County
Fountain County
Fulton County
Huntington County
Jasper County
Kosciusko County
La Porte County
Lagrange County
Lake County
Miami County
Marshall County
Newton County
Noble County
Porter County
Pulaski County
St. Joseph County
Granger Children's Resale - Always see their website, facebook page or by email for updated dates, hours and conditions
Granger Missionary Church: 50841 Birch Road, Granger, IN 46530. Directions: see their website. Payment: Sale is cash only. Bring a shopping bag or basketsee their website. This is a high quality Children's Resale event, held twice a year in the spring and fall. We have like new or gently used infant clothing through teens, shoes, socks, hats, blankets, bedding, nursing supplies, bottles, toys, books, games, puzzles, videos, cribs, changing tables, high chairs, booster seats, pack 'n plays, bouncy seats, exersaucers, play mats, outdoor toys, and ANY items pertaining to infants or children! Also, maternity clothing/accessories, parenting books, and women's devotional books! Our first sale in Fall of 2012 had over 70 sellers and hundreds of shoppers. Our most recent sale had over 150 sellers and thousands of shoppers! We are excited for the growth we see happening! Plan now to join us as a seller & volunteer! Volunteers get the added benefit of shopping a Friday presale before the public sale on Saturday!



Spring dates:


Saturday, March 11, 2017 8am to Noon.



Fall dates:


See their website.


Starke County
Steuben County
Sullivan County
Tippecanoe County
Little Bird Lane, the only Children's Consignment Event - Always see their website, facebook page or by email for updated dates, hours and conditions
Tippecanoe County Fairgrounds, West Pavilion Building, 1010 Teal Road, Lafayette, IN 47905. Email: info@littlebirdlane.com. Directions: see their website. Payment: Cash, credit cards, and debit cards are accepted. SHOPPERS can expect a clean, well-organized store environment, where everything is set up by category, gender, and size. Enjoy one-stop shopping with an incredible inventory of high quality items at unbeatable prices. You can also shop with the comfort of knowing that every item has been inspected for quality, proper working order, and recalls before hitting our sales floor. Admission is FREE. Parking is FREE.



Spring dates:


Spring 2017 SALE: March 8-11
Wednesday, March 8, 2017 • times vary* *Our CONSIGNORS always shop FIRST!
Public Sale
Thursday, March 9, 2017 • 10:00 AM to 7:00 PM
Friday, March 10, 2017 • 10:00 AM to 7:00 PM

Half Price Day!*
Saturday, March 11, 2017 • 10:00 AM to 2:00 PM, *Many items will be an extra 50% off!



Fall dates:


See their website.


Wabash County
Warren County
Wells County
White County
Whitley County